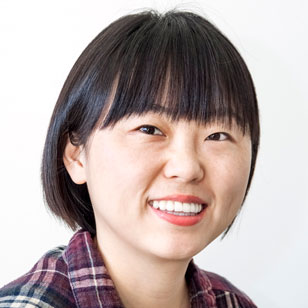 Kahyun Choi, an assistant professor of information and library science at the Luddy School of Informatics, Computing and Engineering, has won an IMLS (Institute of Museum and Library Services) Junior Career Award for her proposal, "Unbiased AI for Poetry Analysis: Toward Equitable and Diverse Digital Libraries."
The award is part of the Laura Bush 21st Century Librarian Program. This Early Career Research Development project supports professional development, graduate education, and continuing education to help libraries and archives develop a diverse workforce of librarians to better meet the changing learning and information needs of the American public.
"I am so grateful for the recognition of this project by the experts in my field," said Choi, whose award is worth more than $430,000. "Also, I am blessed to work with many students and experts on the project.
"Finally, as a junior faculty, I feel lucky to earn the chance to learn a lot about project management through working as a primary investigator on a federal grant."
Choi will develop an open-source AI framework for digital libraries to explore, curate, and analyze large collections of digitized poetry texts. The project team will identify potentially underrepresented poetry groups; build labeled poetry datasets based on theme and emotion categories; develop artificial intelligence (AI) models for understanding poetry; and incorporate user evaluation and feedback to improve the AI model's performance, fairness, as well as reduce bias.
"I am very proud of Kahyun receiving this award," said Noriko Hara, Department of Information and Library Science chair. "This award showcases not only the breadth of Kahyun's research, but also of Information and Library Science (ILS) research in general that ranges from digital collections to ethical AI.
"Kahyun is creative to incorporate her multiple talents and interests that include poetry and music into her research projects. ILS is very lucky to have her as one of the faculty members."
The project team will publish results in a toolkit to help future librarians adopt the ethical AI lifecycle to their collections.
In addition, project results will allow public users to explore massive digital collections of poetry using richer metadata tags, such as theme and emotion. Ultimately, this research will increase the exposure and discovery of underrepresented poetry, leading to increased access to diverse literature in digital libraries.
"AI technology can benefit users of digitized collections in libraries, archives, and museums (LAMs) by increasing the accessibility of items," Choi said. "However, AI applications can create negative consequences, such as algorithmic biases, unless stakeholders of the AI workflow put extra effort and attention into each step. Researchers, institutions, and governments have begun to understand the nature of bias and have started exploring ways to mitigate biases.
"I wanted to propose a new ethical AI model development pipeline that LAMs can refer to when they want to develop ethical AI models for their collections."
Choi said she began working on the proposal last semester. Weekly meetings with Crystal Love, an Associate Research Development Specialist at the Project Development Service, "gave me accountability."
Project assistance will come from John Walsh, the Director of the HTRC and Associate Professor of Information and Library Science at IU; Jon Dunn, Assistant Dean for Library Technologies at IU; Angela Courtney, Librarian for English & American Literature at IU; Nikki Skillman, Associate Professor of English at IU; and Lamara Warren, the Assistant Dean for Diversity and Inclusion in the Luddy School of Informatics, Computing, and Engineering at IU.
"I am blessed to work with so many experts on the Advisory Board," Choi said. "They will bring their expertise in poetry, library and information science, digital scholarship librarianship, metadata generation, ML in libraries, large-scale digital libraries, and diversity and inclusion."