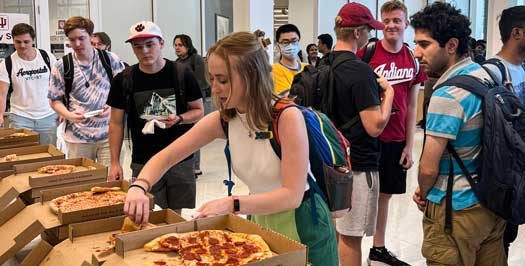 The comfort zone takes a hit, and for this, Morgan Wood gives thanks.
Luddy School opportunities -- and the start of her college adventure -- leave her wanting more.
"Yes, it's uncomfortable," the freshman Intelligent Systems Engineering major says with a smile, "but it's exciting. It's great to be here."
Fellow Luddy freshman Tommy Song, a Computer Science major, shares the thrill.
"I'll confess, when I first moved here, I was very anxious," the Fort Wayne resident says. "I've never been away from home. It's the first time and was very nerve wracking."
A pause.
"I'm definitely excited. I'm looking forward to meeting my professors and classmates."
Anticipation builds fast with the start of the 2022-23 school year. So do nerves, uncertainty and the sense something special is about to happen.
Wood embraces all of it.
"It's an adjustment," she says. "I'm trying to keep the door open. Meet new people."
There are plenty of new people to meet. Pandemic isolation is in the rear-view mirror, in-person learning is roaring back and celebrations are everywhere you look. A recent sun-splashed afternoon finds hundreds of students gathered outside Luddy Hall for a Welcome Picnic Special, and if it includes some Britney Spears "Baby One More Time" musical emphasis, all the better.
"I am excited for fall and spring semester," says freshman Tea Held, an Informatics major from Bloomington. "I have integrated the classes I have to take for Luddy very well into my schedule. It's comfortable for me. My schedule also includes classes that will help me explore my (technology and environmental interests). I'm excited about that."
For freshmen, it's a new adventure. For college veterans, it's a chance to find new ones. For those feeling awkward, this too shall pass.
Transition is aided through group events such as Luddy's Living Learning Center, which brings students with common interests together.
"I am very excited to start the year considering the new student Luddy orientation gave me a great sense of what's to come, says Bloomington freshman Jessica Thompson, an Intelligent Systems Engineer major with a concentration on Computer Engineering. "I felt welcome and motivated during the Luddy events, which (helps) anyone new to an environment feel accepted into the school. I am looking forward to experiencing clubs and events that Luddy puts on because I feel they are beneficial for networking purposes."
Adds Wood: "We're all in the same boat, in the same situation. Going to things together is nice."
The Luddy School of Informatics, Computing and Engineering has a new dean -- Joanna Millunchick -- and a renewed commitment to excellence and growth.
"There are few days in the year more exciting than the first day of classes," Millunchick says, "but for as excited as I'm sure our students are, they aren't nearly as excited as I am to have the opportunity to meet everyone in-person. Our students are inspirations to everyone at the Luddy School, and I know they're going to accomplish so much as they continue to build their path to tomorrow."
Shania Sudhin typifies that inspiration. The Westfield, Indiana, sophomore studies Intelligent Systems Engineering because, "I want to one day build medical devices for people who are in need of them, whether it's a prosthetic leg or a new device."
Sudhin's interest in helping others has her serving as a Luddy Living Learning Center peer mentor. She recently helped direct freshmen to various activities when she wasn't helping them adjust to college life.
"We have lots of opportunities to be a leader and a guide for them," she says with a smile.
Sudhin, who hopes to go to Paris one day, aims to work on "integrating different industries."
"I love how engineering can bring lots of changes to industries all across the world. I'd like to communicate that through my work."
Multi-tasking is part of the Luddy experience. For instance, Wood also has a Cox Scholarship, which has a part-time work commitment of 10 to 12 hours a week. Two to three days a week, Wood will work with the Bloomington Parks Department helping to digitalize their records. An early orientation meeting in downtown Bloomington was part of her fast-paced college start.
"I had to figure out my way around these last couple of days," she says with a laugh, "so I'm less nervous than I was when I moved in. I'm getting settled."
Wood also has a strong computer science interest that started when she coded as a sixth grader in the Fishers school system.
"I like it because it's more hands on that programming or computer science," she says, "but I also like computer science. The two meshed here."
Wood -- who makes friendship bracelets and plays video games when she's not working and studying -- can't wait for what's next.
"I really like the program so far. I've met a lot of fun people. It's been great."
Or, as Song puts it, "I hope to do software engineering and a little bit of artificial intelligence.
"I have one (Luddy) class, and I hope I can make friends with (my classmates) and we build something magical together."